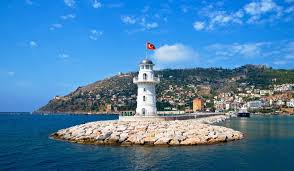 More and more often I hear the question: "Why do people come to Alanya and, most importantly, why do they stay here?", I can answer that everyone has their own destiny and history, but there are still some things that unite many who have moved to Alanya.
To begin with, Turkey is located at the intersection of two continents, which makes it the ancestor of many cultures. It has 7 regions with different climatic conditions and is surrounded by 4 seas. And since the beginning of the two thousandth, it has fallen in love with Russians and immigrants from the CIS countries.
History of Turkey
Turkey has a rich history. Important historical events took place on this land, a change of civilizations and empires took place. Turkey has museums and attractions from all historical eras. Therefore, people who immerse themselves in the history of Turkey begin to love it not for "all inclusive", but for the events and those historical monuments that captivated them.
Advantages of Living in Alanya – Turkey
As a multi-ethnic and multicultural home, the country has a number of advantages such as mild weather, delicious food, friendly population, variety of entertainment and demand for real estate. Let's consider each item in more detail:
Sea and beaches. In Alanya, people usually come overseas. They are conquered by the Mediterranean Sea, for its purity, character and long coastlines. By and large, the coastline is tens of kilometers of beaches where you can safely swim. From Avsallar to Kargicak, and for those who like to ride a little further, they will also like the beaches in Gazipasa.
The weather in Alanya is also an indisputable advantage over the climate in Russia, for example. So in winter the temperature rarely drops below 10 degrees. And the beach season runs from late April to November. And this is no joke, because the first hotels open on April 25 and close on November 1, but if you live in Alanya all the time, then, accordingly, the beach season can start earlier and end later. So it is not uncommon that you can swim in December, and then start in March. But you can sunbathe all year round.
Infrastructure of Alanya. Over the past 20 years, the city has turned from a small port town, practically into a center of tourism. The city's infrastructure has also grown step by step. In addition to beaches, bars, restaurants and discos, there is everything you need for a comfortable and measured life.
Food and groceries. Turkish cuisine is renowned for its variety of dishes, fresh fruits and vegetables. You can buy fresh food in the roaming market, where prices will pleasantly surprise you.
The Mediterranean region has many wide beaches, which means many activities: sailing, snorkeling, diving, etc. The sea is always clean and the sand is soft and warm in almost all seasons. In Alanya itself there are many free exercise machines, and in many cases there are gyms in residential buildings, which can be visited by all guests of the house. If it speaks about the cultural component, then the city often hosts concerts, performances, exhibitions and much more.
Travel and historical walks. History in Alanya is on every corner, there are museums and historical preserved monuments, which is the Red Fortress – this is a must-see place.
Real estate in Alanya. The Mediterranean region undergoes annual upgrades as it receives rich investments. Apartments and residences, residential buildings are being built here. The complexes have VIP zones, spa zones, gyms, playgrounds, security guards, etc. And the price is not so expensive even in comparison with Russia. A good apartment in Alanya can be bought for about 35,000 euros. At the same time, the house will also have halls for sports, a swimming pool, a sauna and much more, which is not in Russian houses.
Multicultural environment. The people here are friendly and hospitable. People from different countries and continents live here. Many business owners and staff members speak multiple languages. Therefore, integration into local life is very smooth.